http://www.pigtalesandquilts.com/
Hi!! Are you all ready to Dance today!! I am!! And in a few different ways!!!! I have already been to Thearica's blog and she has some fun going on!! So hop over and share the fun!!!
We had snow on Thursday night and no school for Jager on Friday!!!! More snow on Friday night!! More fun dancing in the snow with Jager and Emma!!
I love these two little angels!!!
I have forgotten to mention!!! Some wonderful news!!! I am going to be a MoMo again come September about the 23rd!!! My oldest son John and his girlfriend Amber are expecting!!!! Yaa!!!
This is a little stitchery I am working on!!!! I plan to do several Christmas stitcheries for a Christmas Project!!! I Love Cindy Lou Who!!!!
This is my first block in the 2013 Blocks of the month
http://quiltdoodledesigns.blogspot.com/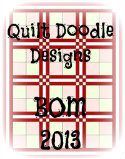 Cindy has added Febs bom!!! I must get to work on it soon!!! But I am switching fabrics again!!!