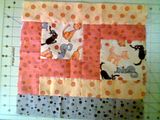 Hi!!! Well here is a start!!! Cute cat fabric!!! No pattern!!! Just me giving it a good old fashioned Carla Try!!!! There is a boo boo on the back though!!! I sewed the grey piece on with the back seams going the wrong way!!! I haven't got the seam ripper out yet!!! Not sure what it will be! But I have more fabric so!!! It will be something bigger eventually!!!! I just started cutting and sewing not knowing where I was going!!! Afterwards I realized if it had been planned I could have done less cutting and sewing had I used some strips here and there!!!! I usually do learn the hard way!!!!! Good news though my grand daughter picked it up and said aw kitty kats!!!! So it will be loved!!!!
Don't forget to visit Leafs me happy blog hop!!!!!
The tree on my side bar will take you there!!!!! Ha Ha!!!!